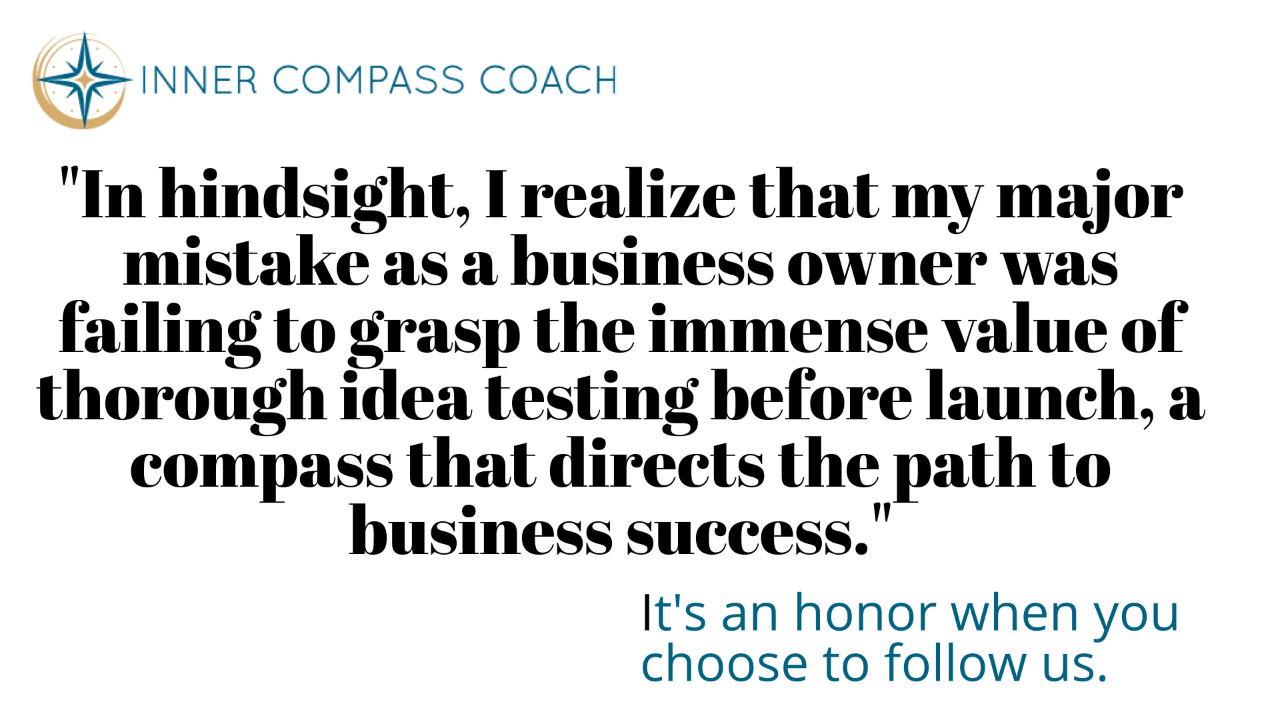 Finding Your True North in Entrepreneurship: Mistakes You Can Avoid When Starting a Business
Aug 04, 2023
I've shared before that Inner Compass Coach is technically my third business, as my first two ventures were misaligned with my true self and intrinsic drivers. And you know what? I've come to realize that I'm not alone in starting the wrong business. In fact, I've worked with many aspiring entrepreneurs who faced similar hurdles.
I'll be honest—my journey wasn't without struggles. Each time I had a new idea, I would dive in headfirst, eager to share my new venture without doing thorough research, testing my concepts, or ensuring they truly aligned with my goals.
After my first failed venture, the question from friends and former coworkers, "What do you do?" would fill me with a sense of embarrassment, feeling like I was aimlessly bouncing around without direction.
But every failure brought hidden blessings. I gained invaluable insights into different business models and built connections across various fields.
Looking back, I can pinpoint three critical mistakes I made when starting my former business:
1️⃣ Creating businesses without fully considering my true self and leveraging my strengths.
2️⃣ Falling in love with the idea of a company, but not being genuinely passionate about the entire career it created for me—the roles, responsibilities, and tasks within my business.
3️⃣ Responding to the question "What do you do?" with something definitive, instead of honestly sharing, "I'm testing some business ideas to see what's the best fit for me," and seeking clients to test my products or services.
But hey, I've learned from my missteps, and I'm here to share my insights.
If I could do it differently, here's how I would avoid these three common mistakes:
1️⃣ I would only test business ideas that align with my core drivers and leverage my strengths.
2️⃣ I would conduct thorough mini-tests before a full launch, allowing me to determine if the business was the right fit for me and to ensure financial viability (a mini test is when you have ideal clients test your products or services to give you feedback).
3️⃣ When exploring a new business concept, I would honestly tell people that I'm in the testing phase, rather than projecting false confidence of launching a business that I wasn't sure would stick. If the person might be my ideal client, I might even invite them to test my product or service.
The pivotal difference that sets Inner Compass Coach apart from my previous ventures is the extensive informational interviews I completed with other career coaches to gain their insights about the business and industry before I launched. Moreover, I tested my services on clients without charging to gather feedback, confirming my passion and the company's financial viability. This ensured that when I did launch, the company was truly aligned.
So, if you find yourself in a similar situation, remember—it's never too late to test the waters and start the right business that truly aligns with who you are.
Embrace the lessons from your experiences, and don't hesitate to seek guidance. I'm here to help you navigate your path towards a business or career that aligns with your authentic self. To learn more about business coaching, click here.
Don't miss a beat!
Career advice, motivation, and special opportunities delivered to your inbox.
I hate SPAM. I will never sell your information, for any reason.