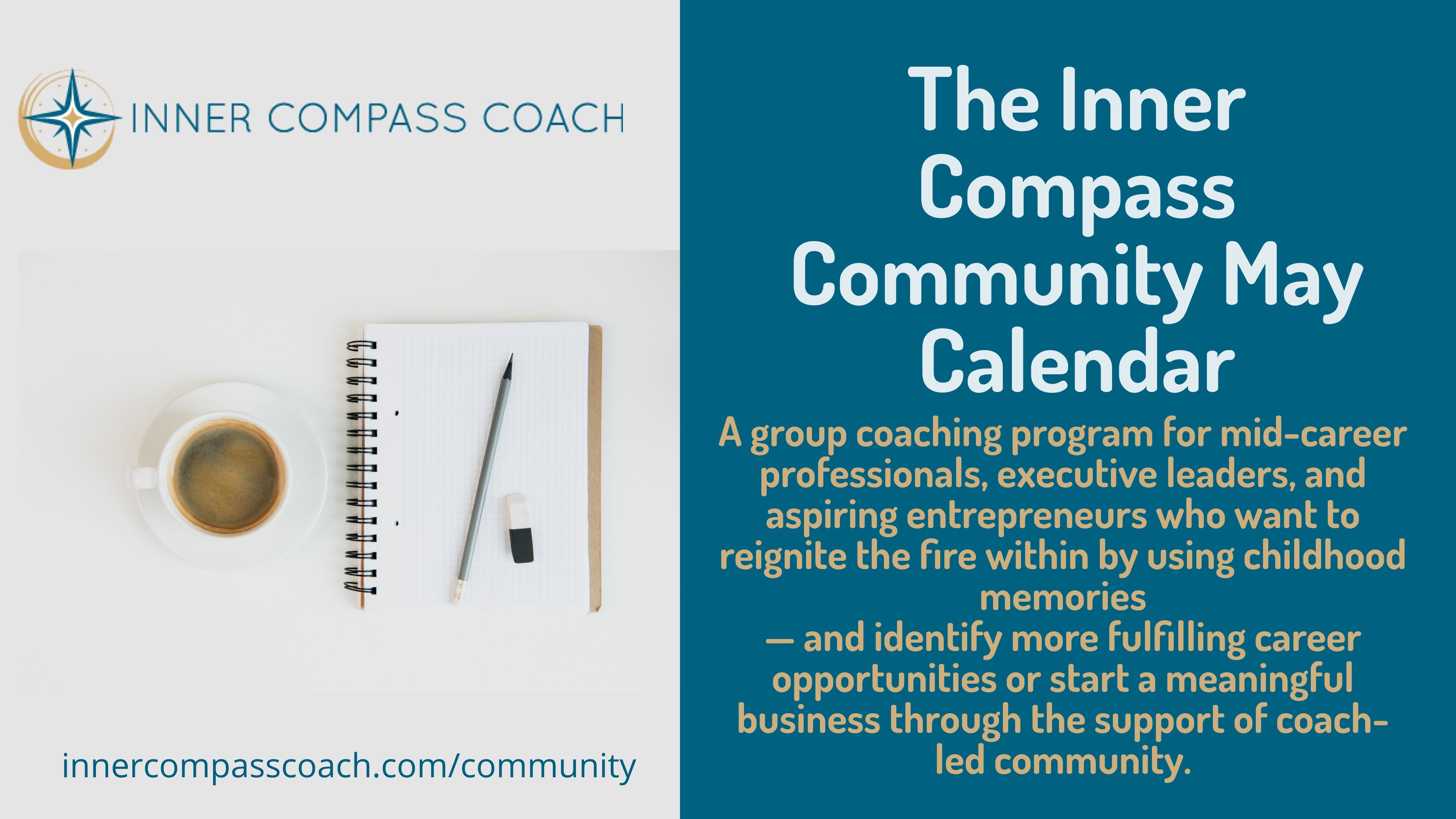 The Inner Compass Community May Calendar
Apr 19, 2023
The Inner Compass Community Calendar for May has been released!
What is the Inner Compass Community? A group coaching program for mid-career professionals, executive leaders, and aspiring entrepreneurs who want to reignite the fire within by using childhood memories
— and identify more fulfilling career opportunities or start a meaningful business through the support of coach-led community.
Check out our May calendar!
➜ 9toThrive for Better Mental Health and Work-life Alignment- Topic- Managing our Triggers Toolkit Part I- Tues, May 2, 2023 1:30-2:30 PM EDT
It's not uncommon at work or in our business to get emotionally triggered- meaning a situation like a bad boss or frustrating client causes us to experience a domino of negative thoughts, feelings, and actions. During this workshop, you will develop a deeper self-awareness about your workplace triggers and understand how you can change your response to them to be in service to you and others.
➜ Rediscovery Session for Career Changers and Business Owners- Topic: Your Contribution or The Impact You Want to Make Through Your Work- Weds, May 10, 2023 7:15-8:30 PM EST-
Often career changers and business owners will say, "I want to make a difference or help the world." but the "how" and "why" are unclear. This workshop helps you get clear on what making a difference or helping others means to you, so that you can use this information to help you evaluate potential career or business opportunities and live out your how and why.
➜ 9toThrive for Better Mental Health and Work-life Alignment- Topic- Managing our Triggers Toolkit Part II- Tues, May 16, 2023 1:30-2:30 PM EDT
This is part II of the workshop scheduled earlier in May. This workshop is focused on how to create new and more positive reactions to triggers we've experienced in the workplace, so we experience more constructive outcomes both in work and in life.
➜ Career Changer's and Business Owner's Strategy Session- Testing Before Investing- Wed, May 24, 2023 7:15-8:30 PM EST
When it comes to making a career change or starting a business, testing our career or business possibilities is key- through conversations with people who work in fields we are interested in, classes, test projects, and more. This class will share ideas on how to test your ideas, and also help you maintain the mindset of curiosity and playfulness while doing so, so that you can stay positive and make your transition fun.
➜ Business Owner's Strategy Session- Your Strategic Plan- Tues, May 30, 2023- 12-1:15 PM EST
Do I need to have a business plan? The short answer is most likely no, unless you're raising funds for your business. With that said, it helps to have a strategic plan, or a 2-page document that helps focus your weekly, monthly, and yearly goals/priorities. We'll be borrowing some strategic planning concepts from Chuck Blakeman's book, Making Money is Killing Your Business (check it out here on Amazon) and integrating them into your business.
Do you like what you're seeing on our calendar and want to learn more? Click here to learn more about the Inner Compass Community and here to schedule a complementary strategy session if you'd like to assess if it would be a good fit.
We're excited to work with you!
Danielle
Don't miss a beat!
Career advice, motivation, and special opportunities delivered to your inbox.
I hate SPAM. I will never sell your information, for any reason.